Magic City, Miami's famed moniker, was coined after hundreds of thousands flocked to this sun kissed destination on Florida's south-eastern coast. Lined with warm, sandy beaches and crystal clear waters, the city is also rich in culture, blending influences from citizens across the US and Latin America. Miami has something for everyone.
With Miami car hire, you can also explore bustling Downtown and its eclectic neighbourhoods, as well as the Florida Keys – all while basking in the Florida sunshine.
But what else should you fill your itinerary with? Here's our guide to the must-see attractions.
1. South Beach
South Beach, Miami Beach, FL, 33139
South Beach is one of Miami's most fun-filled locations, with high-end boutiques, cutting-edge dining and stunning waterfront attractions. It's biggest charm is, of course, its iconic white sand beach.
Soak up the sun, take a dip in the clear blue ocean or sample the oceanside restaurants that gaze out onto the shore. For those who prefer something a bit more active, you can try cycling, golf, tennis or fishing at Haulover Park or enjoy a walk down the palm-lined streets to admire local Art Deco architecture.
2. Miami Beach Boardwalk
Miami Beach Boardwalk, Miami Beach, FL, 33140
Meander in the sunshine along Miami Beach Boardwalk, one of the best walks in the city. Follow the well-lit wooden walkway past Art Deco hotels and towering palms, as you take in breathtaking views of crystal waters lapping the sandy shores.
Running all the way from North Beach to South Point Park, the boardwalk has become a major route for walkers and cyclists. You can use it for serious exercise or leisurely wandering from beach to beach – don't forget to stop by some of the cafes, bars and shops along the way.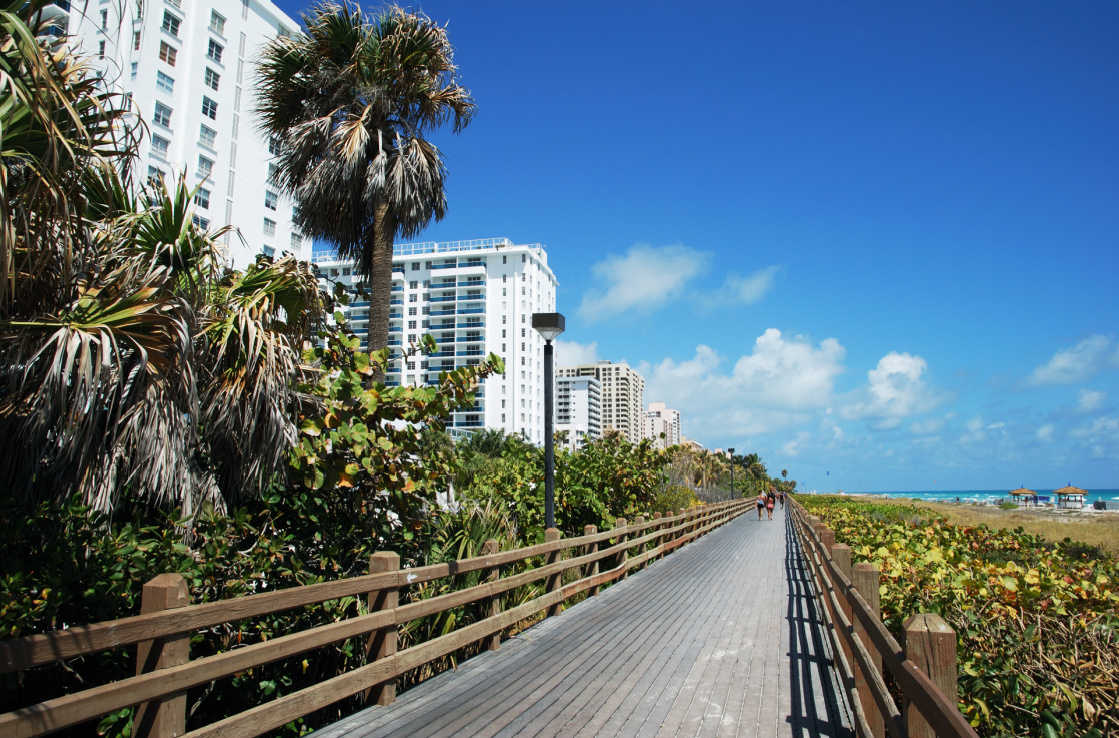 3. Miami Beach Botanical Garden
2000 Convention Center Drive, Miami Beach, FL, 33139
Covering three acres, Miami Beach Botanical Garden displays an enviable collection of rare and exotic horticulture. As you enter, you'll be greeted by the colourful sights and perfumed aromas of this urban oasis.
Trees like the ylang-ylang and frangipani offer intoxicating scents, while the Tabelula and Bauhina plants provide vibrant flowers throughout the year. Walk across the Japanese Zen Garden's iconic red bridge across a pond of water lilies, check out the coffee and pineapple plants in the Edible Garden and admire hummingbirds and butterflies amid the Native Garden's greenery.
4. Wynwood Art District
2520 Northwest 2nd Avenue, Miami, FL, 33127
One of Miami's main cultural centres, the Wynwood Art District can be visited all year round and boasts an impressive array of artistic attractions. You'll find unique galleries, antique shops, eclectic cafes and one of the world's biggest installations of outdoor art – the Wynwood Walls.
Started in 2009 by Tony Goldman, the Wynwood Walls movement transformed the district's old factories and warehouses into giant canvases for street art displays and murals. Take a tour to discover the work of more than 50 artists from across the globe, who have brought colour, life and passion to the Walls.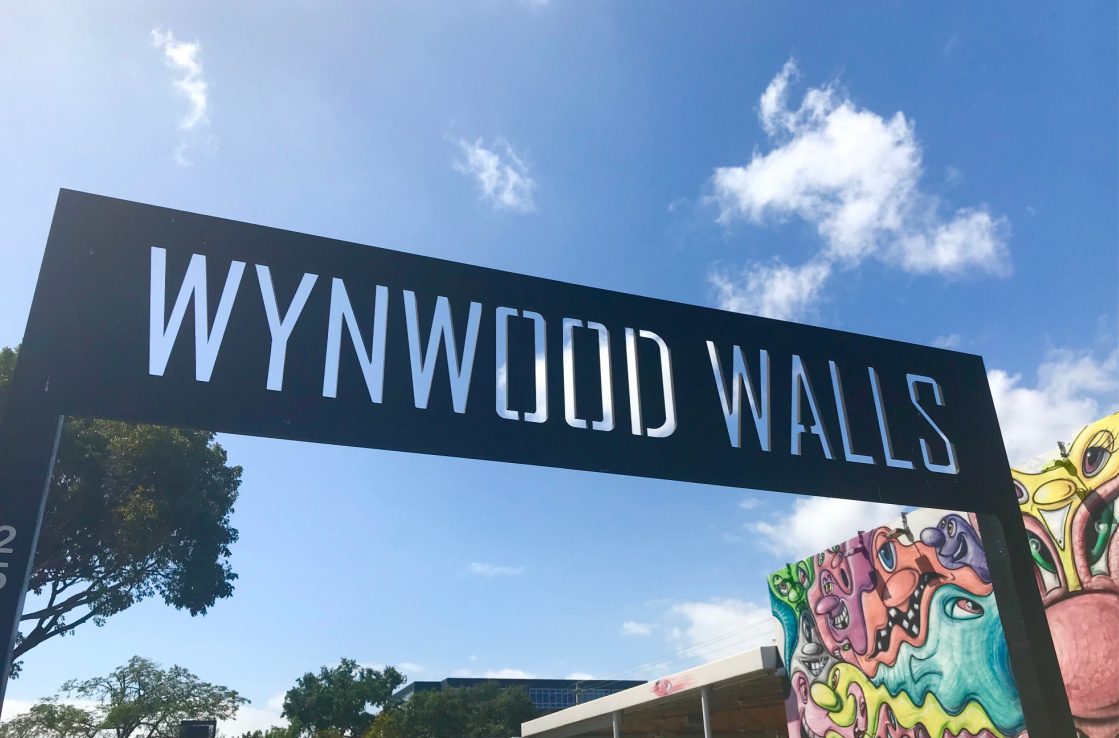 5. Little Havana
Little Havana, Miami, FL, 33135
Experience a taste of Hispanic culture in Miami with a visit to Little Havana. This bustling area is home to the most famous Cuban community outside of Cuba. Experience Latin-inspired street food, authentic bakeries and open-air cafes, with the soundtrack of salsa beats in the background.
With its old colonial buildings, Cuban memorials and murals, Calle Ocho (Southwest 8th Street) forms the heart of Little Havana. Take a guided tour or watch the locals play dominoes in Maximo Gomez Park. If you visit in March, you can also join in the festivities of Calle Ocho Music Festival.
6. Miami Children's Museum
980 MacArthur Causeway, Miami, FL, 33132
Let your little ones' imaginations run wild at the Miami Children's Museum. With 18 different zones to choose from, this highly acclaimed, entertaining and educational venue offers you and your children the chance to learn and be inspired through play.
Families can hop aboard a cruise ship, play instruments in the music studio or enjoy a busy stint of building at a construction site. Pop into a brightly coloured bank and learn about saving money or test your medical skills in the pet centre, with cuddly animal toys.
7. Biscayne National Park
9700 Southwest 328th Street, Homestead, FL, 33033
Moments from Downtown, Biscayne National Park feels like another world entirely, with its mangrove forests, underwater coral reefs and impressive nautical history. An intriguing past, that regales with thrilling tales of shipwrecks and pirates.
There are plenty of fun activities for the whole family to get involved in during your visit. Go kayaking along the shorelines of Biscayne Bay or take a boat to the Boca Chita Key lighthouse. Those feeling adventurous can even go on an underwater adventure snorkelling or diving at a shipwreck on the Maritime Heritage Trail.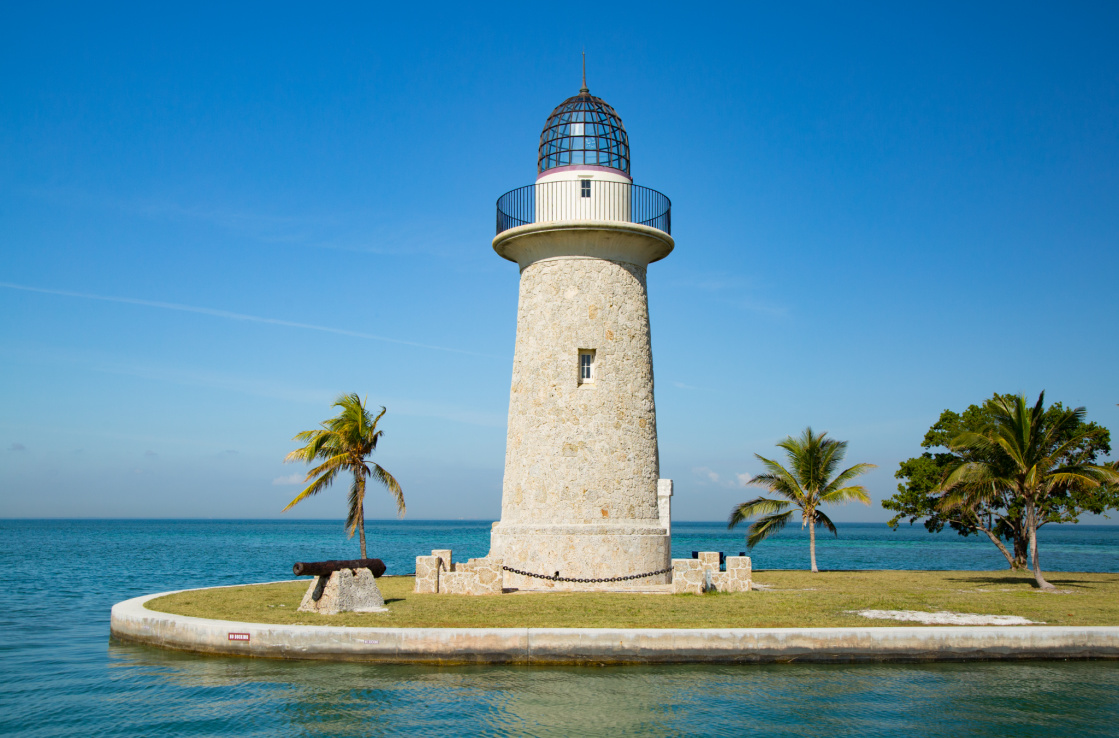 8. Venetian Pool
2701 De Soto Boulevard, Coral Gables, FL, 33134
Swap the sandy beach for a day by the pool at this one-of-a-kind aquatic facility in Coral Gables – just a 15-minute drive from Downtown Miami. The Venetian Pool was first created in 1923 in a coral rock quarry and still features original elements, such as the historic lookout towers which overlook the city.
Take a refreshing dip in the spring water, swim through the two waterfalls and explore the cave-like grottos hidden within the walls.
9. The Wolfsonian-Florida International University
1001 Washington Avenue, Miami Beach, FL, 33139
You can discover an amazing range of art and artefacts from across the United States, Europe, Latin America, Asia and Africa at The Wolfsonian. The museum stands amid Miami's world-famous Art Deco district and holds a unique collection of more than 200,000 items.
These treasures date from the end of the Industrial Revolution to the end of the Second World War and form an incredible array of exhibits that formed that era as we know it. See extraordinary art nouveau furniture, pre-war propaganda posters, decorative Italian ceramics and 20th-century American sculptures when you visit.
10. Miami Dade College Museum of Art and Design
600 Biscayne Blvd, Miami, FL, 33132
This acclaimed art gallery is housed in one of Miami's most distinctive landmarks – the Freedom Tower. You can browse temporary exhibitions and highlights from Miami Dade College's permanent collection, which contains more than 1,700 pieces, including paintings, photography, videos and sculptures.
There's the chance to admire striking Pop Art of the 60s and 70s alongside contemporary works by Latin American artists. Plus, don't forget to check out the Freedom Tower photo archive – the 1925 building is a piece of design history itself.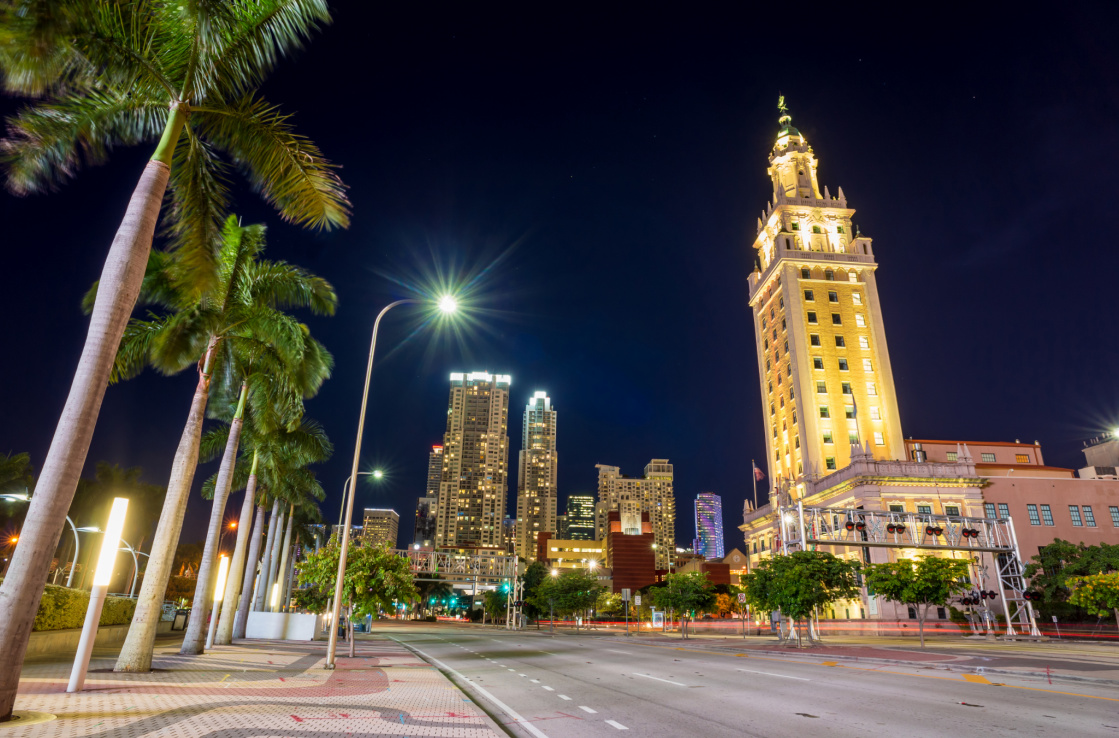 11. Key West
Key West, FL, 33040
Follow the Overseas Highway through the Florida Keys to the nation's southernmost city – Key West. Known for its shimmering waters, beautiful beaches and conch-style houses, this tropical island oasis is an idyllic retreat from the mainland.
Snorkel with the fishes and go wreck diving at the Vandenberg artificial reef or stick to land with a relaxing stroll along Duval Street. There's plenty of cafes and trendy eateries if you fancy a bite to eat, then head to Mallory Square to catch a breathtaking Key West sunset.
12. Bill Sadowski Park
17555 Southwest 79th Avenue, Palmetto Bay, FL, 33157
Bird watchers and nature lovers will be in their element at the Bill Sadowski Park and Nature Center, situated in Palmetto Bay. Although small, this park has plenty to explore, including a live animal exhibit, a freshwater aquarium and a native tree arboretum.
Follow the park's nature trail to explore the pineland, tropical hardwood and Everglade habitats or try canoeing along the canal. Feel like a spot of star gazing? Visit the Southern Cross Astronomical Society's observatory site located within the Bill Sadowski Park, where you can enjoy free lectures, telescope access and astronomy programmes.
Now your itinerary is planned out, sort out travel by booking your Miami car hire online today with Hertz.