From the wonders of Yosemite to the spectacular depths of the Grand Canyon, we take a look at the most gorgeous natural spaces and landscapes America has to offer. Here are 10 of the best US national parks to visit.
Yellowstone National Park
Yellowstone was the world's very first national park and, perhaps, the most iconic. It's not hard to see why. Covering an incredible 2.2 million acres in Montana, Idaho and Wyoming, this staggering landscape boasts powerful natural geysers, beautiful alpine lakes, tall craggy peaks and some of the largest wild mammals you'll find in the wild, in the shape of grizzly bears and buffalo.
Yosemite National Park
Dominated by its towering rock walls, Yosemite in California is an understandable favourite among climbers.
It offers plenty of spectacle for more casual visitors too, however, with the iconic Yosemite Valley running through the heart of the park. This seven-mile canyon was started by the valley's river, but glaciers finished the job by broadening and flattening it. The spectacular cliffs lining the valley are some of the biggest in the world.
Grand Canyon National Park
At a mile deep, 277 miles long and, in some places, as many as 18 miles across, no-one's going to argue that the famous Grand Canyon doesn't deserve its very own national park.
If you can, hike down into the canyon itself. It's the iconic Grand Canyon experience, and offers miles of incredible trails, not to mention your best chance at escaping the crowds.
Phoenix and Las Vegas are the nearest cities and you can hire a car or from either of them.
Zion National Park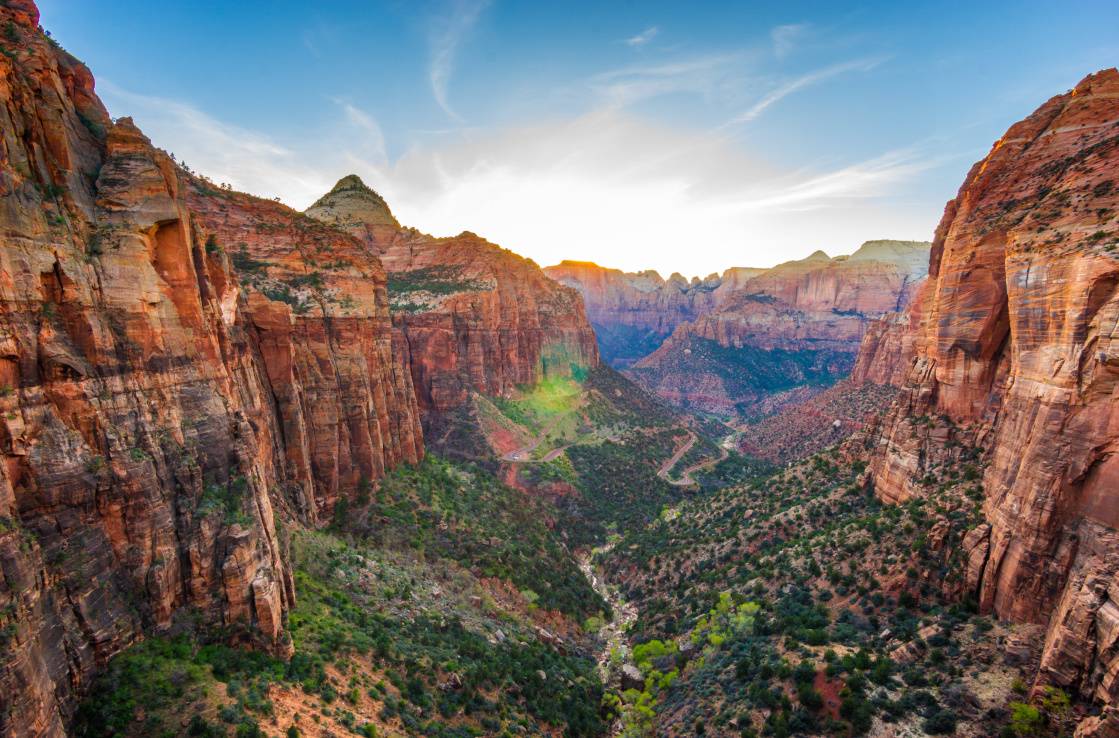 Utah's Zion National Park is equal parts otherworldly and unforgettable. A maze of red-walled canyons, fast flowing rivers, towering and unusual rock formations and powerful waterfalls, it's a place that has a real wild-ness about it.
You can tackle challenging hikes like the famous Virgin River route up a 2,000-ft deep slot canyon, or take a more sedate trip along the road that runs right through Zion – it's one of the most scenic in the country.
Grand Teton National Park
The peaks of Grand Teton National Park in Wyoming are the kinds of mountains small children first draw when they think about the wilderness. Jagged, dramatic and decidedly pointy, they're some of the most impressive in the Rockies.
As well as incredible hiking and fishing, this park offers some of the best skiing and snowboarding in the world thanks to the remarkable Jackson Hole valley.
Glacier National Park
Harder to get to than nearby(ish) Yellowstone, Montana's Glacier National Park will nonetheless reward you for making the effort to get there. You'll find more hikers, fewer busloads of daytrippers, and one of the most spectacular drives in the world, never mind the USA.
The scenery is truly breath-taking stuff, with glacial mountains, pristine lakes and deep forests.
Acadia National Park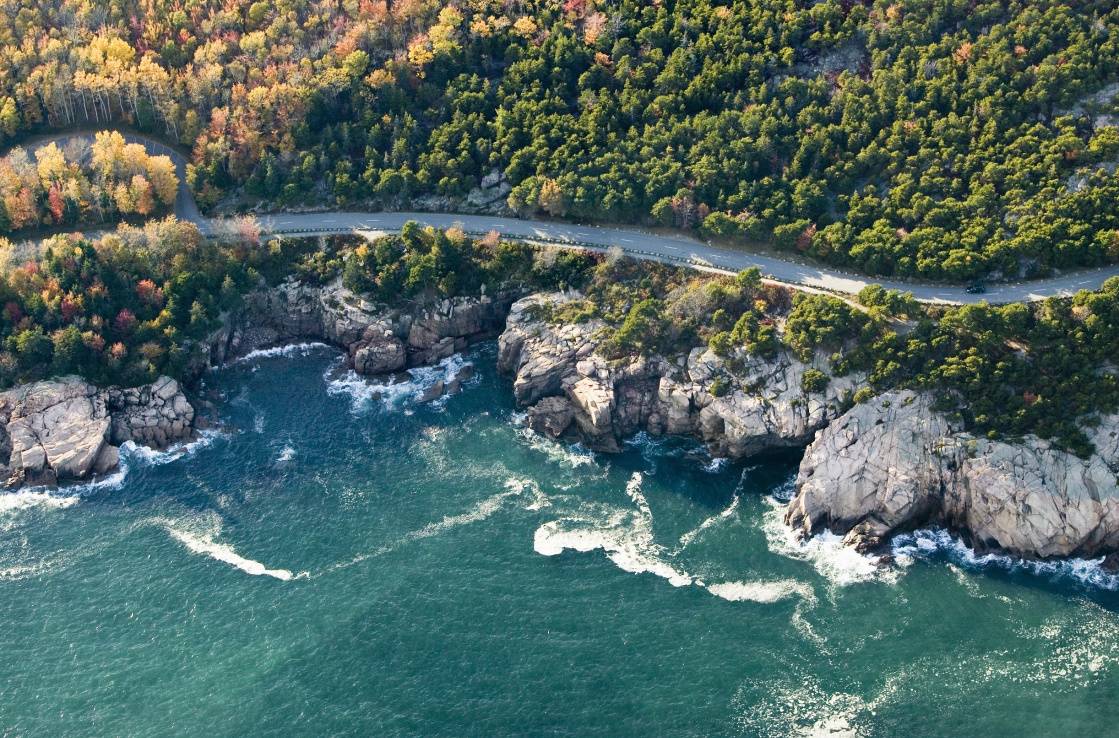 What Acadia in Maine lacks in height, it more than makes up for in rugged, challenging coastline. This rocky fractal of coast has hundreds of miles of trails running through it, with the occasional lighthouse punctuating the wild environment.
Rocky Mountain National Park
Colorado's Rocky Mountain National Park is all about the big views. It boasts towering peaks, 150 lakes, 450 miles of streams (which, for the fishermen out there, are teeming with trout), alpine tundra and sprawling forests.
The park also offers some of the most challenging and technical hiking in the country. It boasts many of the US's highest peaks outside Alaska, and getting at them often involves walking hair-raising ridges and tackling scrambles, which will literally take the breath away. Only the skilled and prepared need apply.
Olympic National Park
Olympic National Park in  is Washington Statethe sort of place that really rewards the dedicated hiker. With no roads running across it, it encompasses pacific coastline, subalpine forests laced with wildflower meadows and temperate rainforest.
It makes for wet, wild stuff, but it rewards those who dare venture in.
Great Smoky Mountains National Park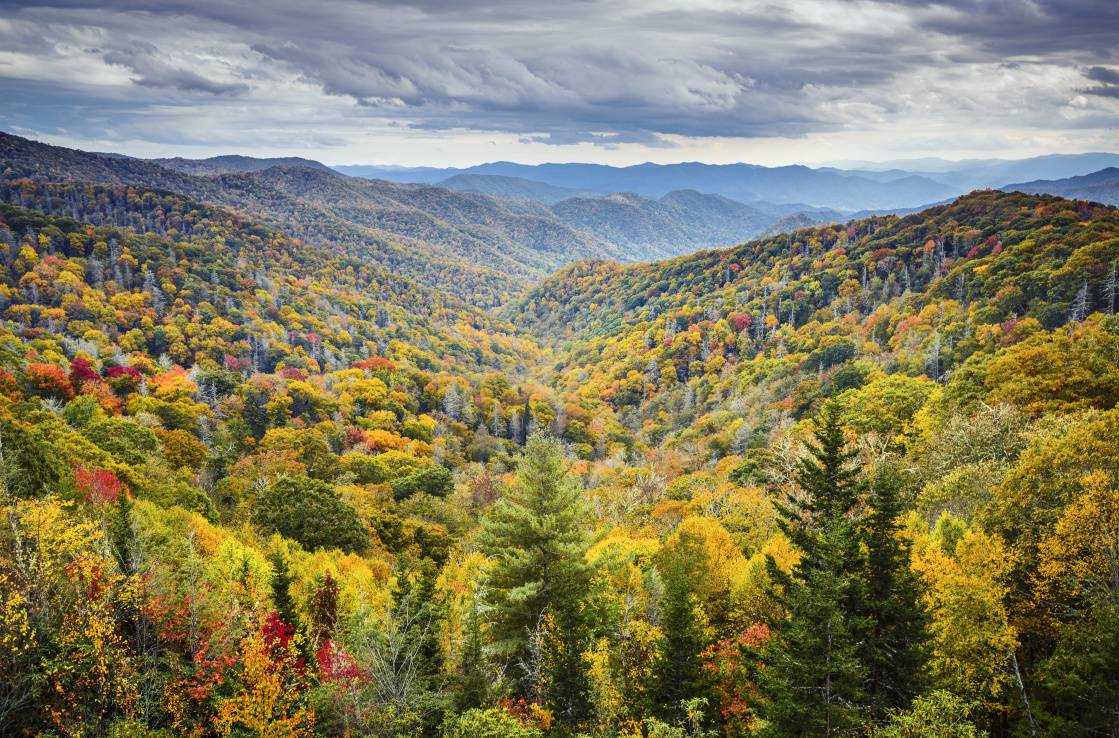 You might not have guessed it, but Great Smoky Mountains is the most-visited national park in the States. That's partly because its North Carolina/Tennessee location makes it relatively straightforward to drive there from a lot of the east coast cities, with a scenic highway that makes taking in the views nice and easy.
But it's also the diversity of the place and the 800 or so miles of hiking trails that appeal. Bears, deer, birds and rattlesnakes are found here, and autumn offers cascades of orange, red, yellow and brown.
Whether you're looking for a scenic day trip, a challenging hike or just a beautiful drive, you'll find plenty to feast your eyes on in America's national parks. It's a nation with some of the most dramatic scenery in the world, and it's all within your reach with car hire in America.